The Hidden Messages member Edd Billig passed away on his 28th birthday

It's with a heavy heart we pay respect to another member of the SFT family, Edd Billig; followers of the label will know that in our early days we released 3 records with Pop Will Prevail records, one was a double a-side by The Hidden Messages. Edd was one of four very talented young men who created very beautiful music (you can hear 'Over' and 'Elephant Graveyard' in the SFT compilation on Spotify which is linked above).

When you release a new record you hope that you can get on with the band in question, sometimes they disappear and you never hear from them again but often you forge a friendship that stands the test of time. 52 Teenagers, Stations and Headlines (Dutch Uncles) are just some of the bands we've worked with that we will know forever. Kenny and Edd from The Hidden Messages can be added to that list. I was lucky enough to spend a lot of time with these guys and I always knew we could count on each other for a hug, a smile and fun times. Whether it was simply meeting up for a gig or one of the many times I kipped on their couch in London (shared with Jed and Tom) I knew I was always welcome and they were always welcome at mine in return. Edd was a big part of what made those trips and visits so enjoyable - he was such a smart guy, I mean, who else could claim to be World Champion at anything let alone something so brain teasing as Sudoku?

I remember our single launch in London so well, I had had a bad day but that night was so special, it became one of my favourite memories with the label. When I was given the chance to go on a trip to Vegas and Coachella music festival with Edd, Kenny, Tom and Jed, myself and our mutual friend Adam jumped at it. I remember sitting by our pool very late one night while Edd enthused about the new Hidden Messages tracks, 'listen to this!' I didn't hesitate, and it was fantastic, just as I had come to expect.

So here we are, another update I never wanted to write. Another life taken too soon. Our love goes out to Jed, Tom, Kenny, Edd's band mates and his family and friends whose lives were made better by this lovely young man. Rest in peace Edd, I'm gonna miss you a lot.

Michael SFT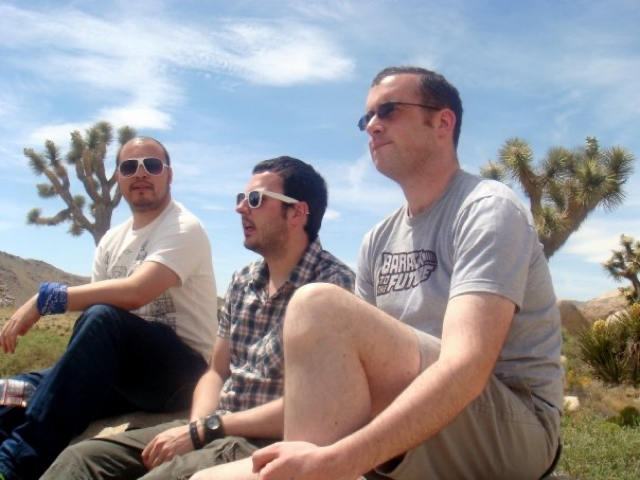 Below is footage of the song 'Elephant Graveyard' (the joint SFT and PWP release) taken from 'quack! Quack! QUACK! - A tribute to Edd Billig' on Saturday 30th April, 2011 which was an incredible celebration of Edd put on by his closest friends.

On the bill were two of his favourite bands, Ooberman and The Electric Soft Parade and by the end of the night £800.12 was raised for two charities: Cardiac Risk in the Young and the Ruby Lambert Trust.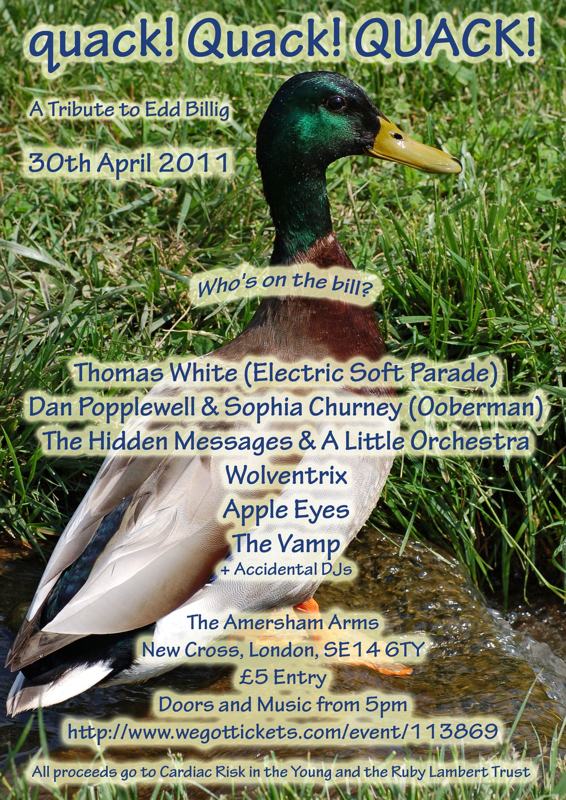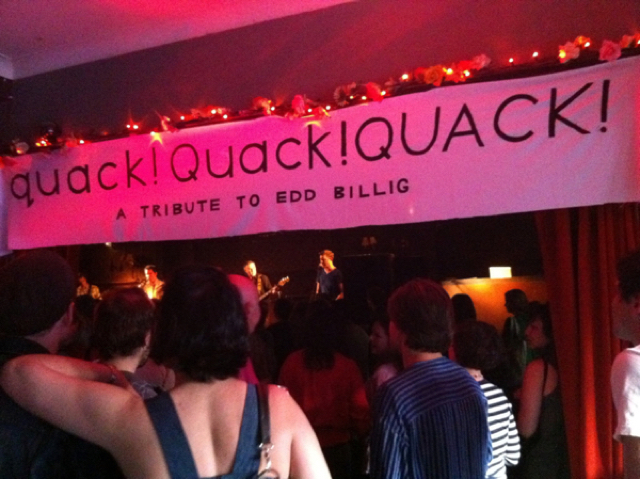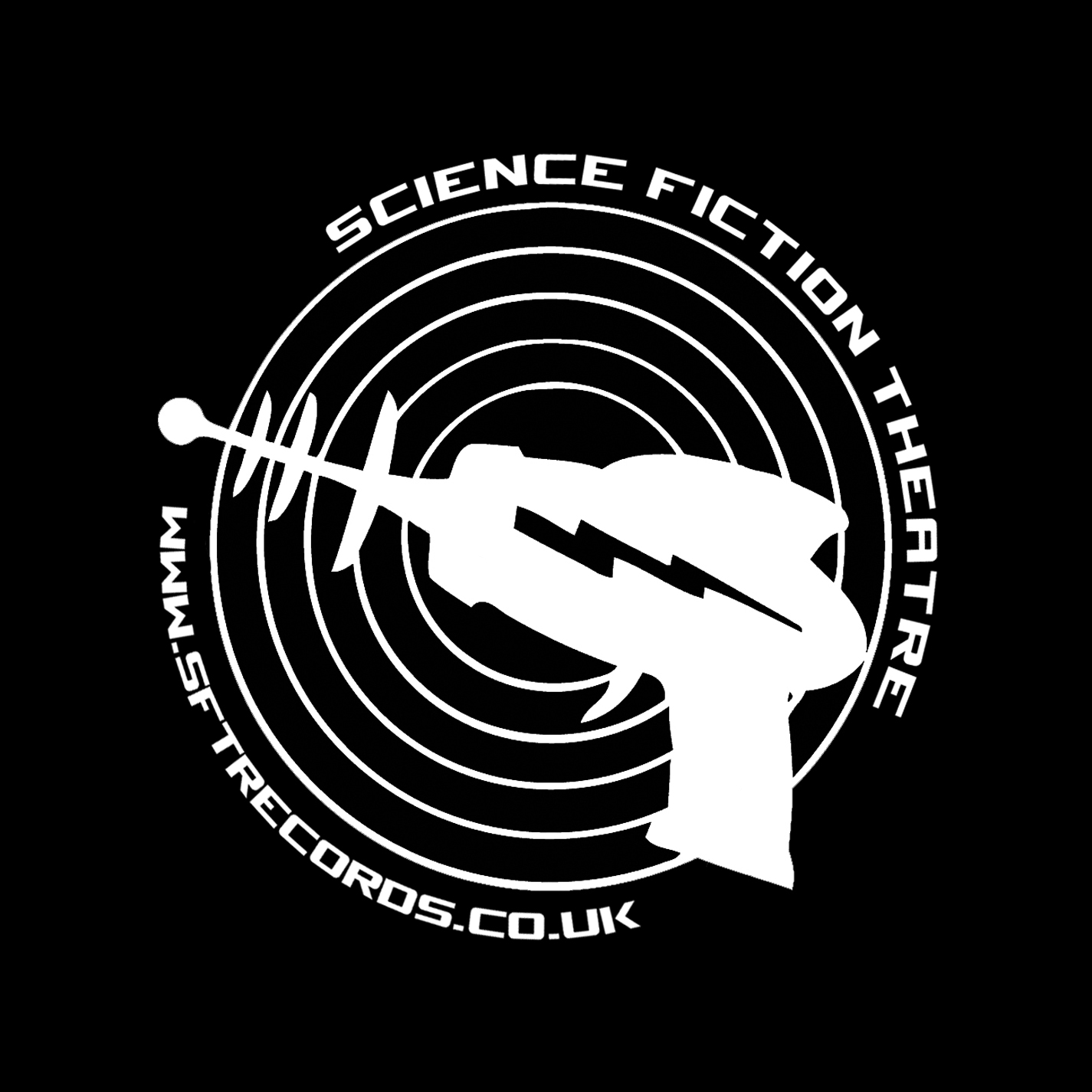 SFT Records 2006-2012


Listen on Spotify!


Cat No: SFT950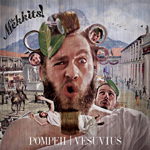 The Mekkits!
Pompeii / Vesuvius


Listen on Spotify!


Cat No: SFT327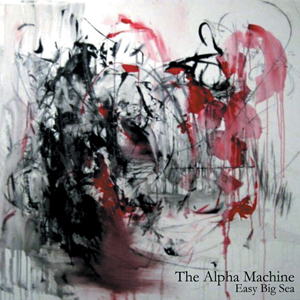 The Alpha Machine
Easy Big Sea


Listen on Spotify!


Cat No: SFT338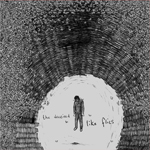 The Deceived
Like Flies


Listen on Spotify!


Cat No: SFT264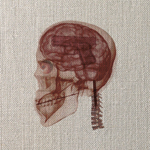 The Deceived
Monuments


Listen on Spotify!


Cat No: SFT846